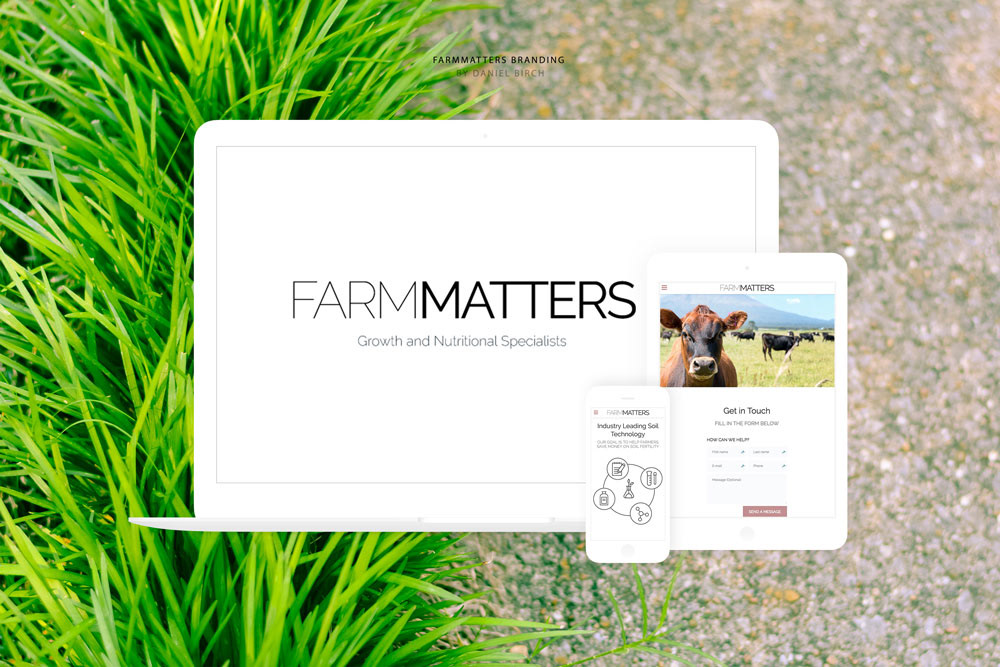 Problem & Mission Statement
Fertwise came to me needing direction and clarity on their brand and business strategy. I was able to break down the essence of the brand and understand the target audience behaviours and emotions. We eventually rebranded the company as Farmmatters with Fertwise being a part of the services they offer.
Firstly I needed to understand the products and services, then understand the customers and their needs and pain points.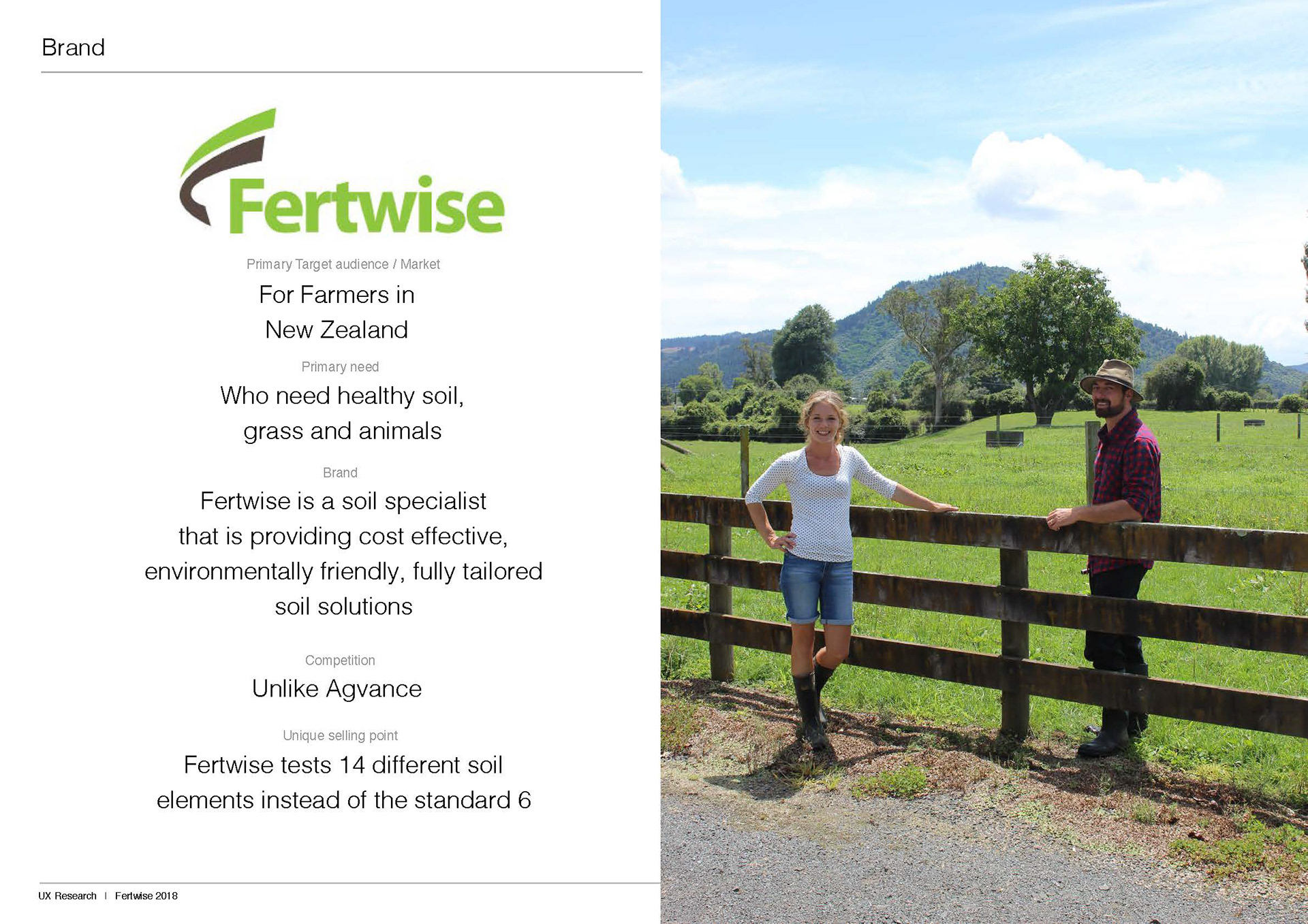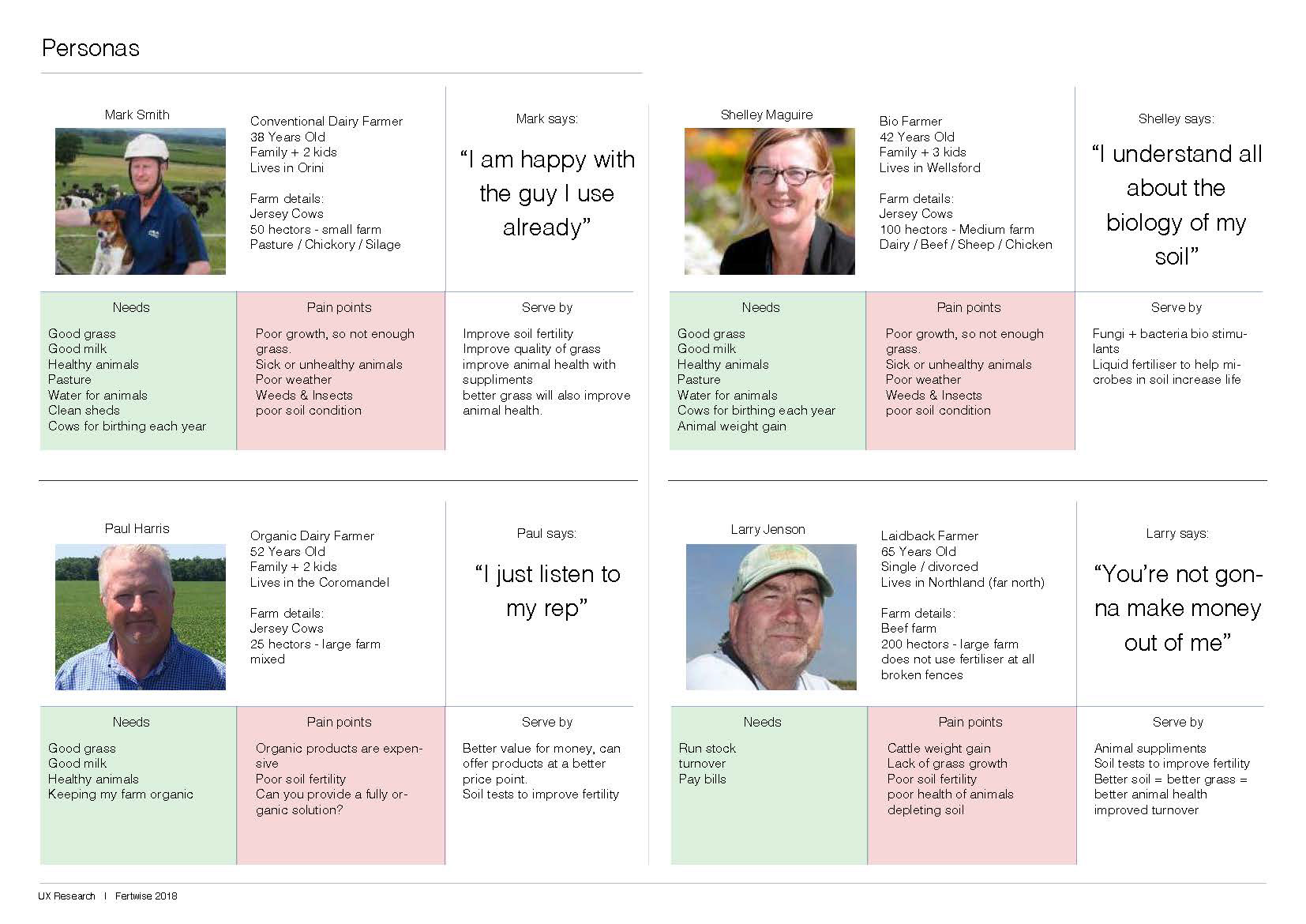 This gave us a clear idea on what we needed to provide to our customers and what questions we needed to answer.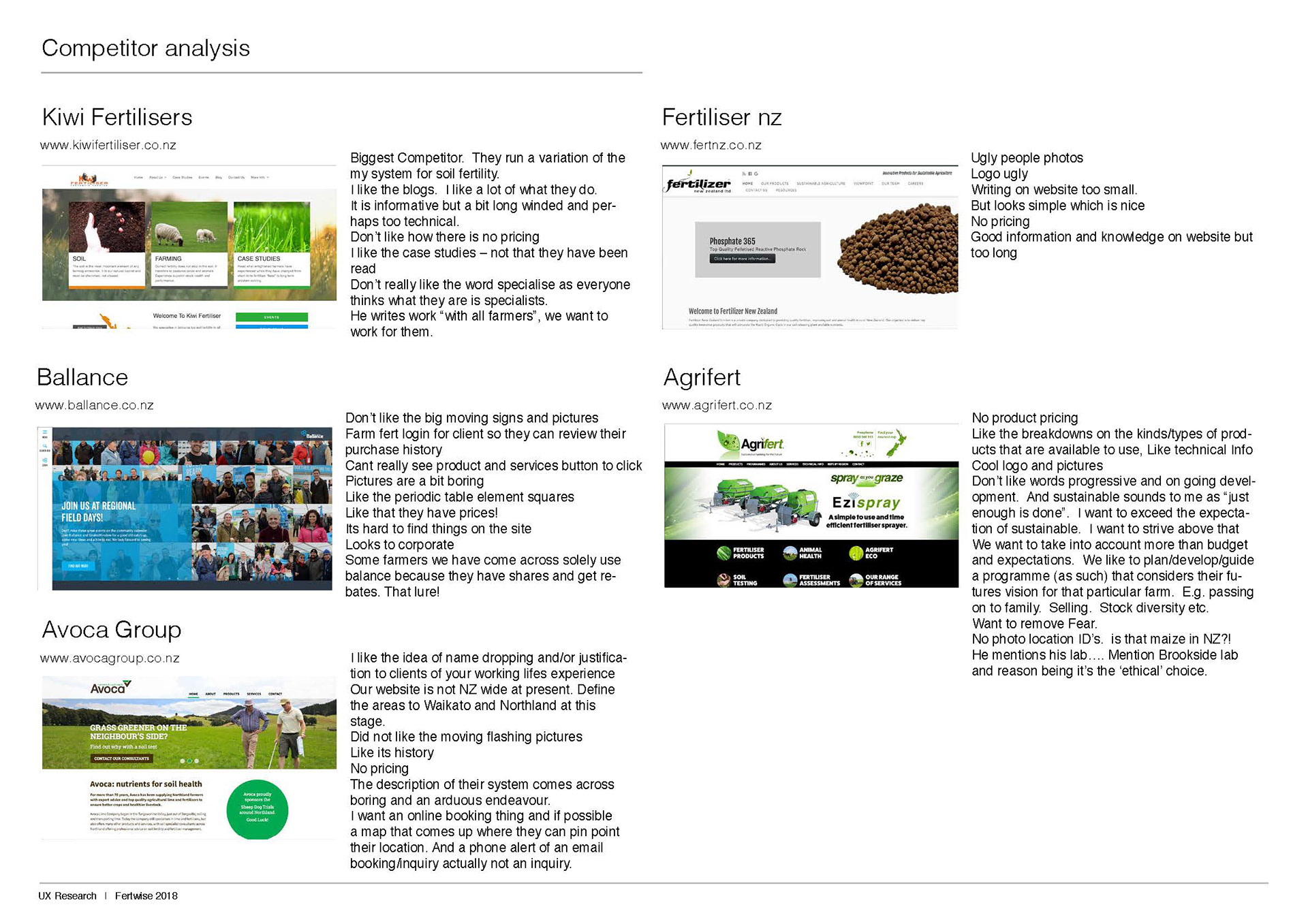 I did an analysis of the competition understanding what makes Fertwise unique.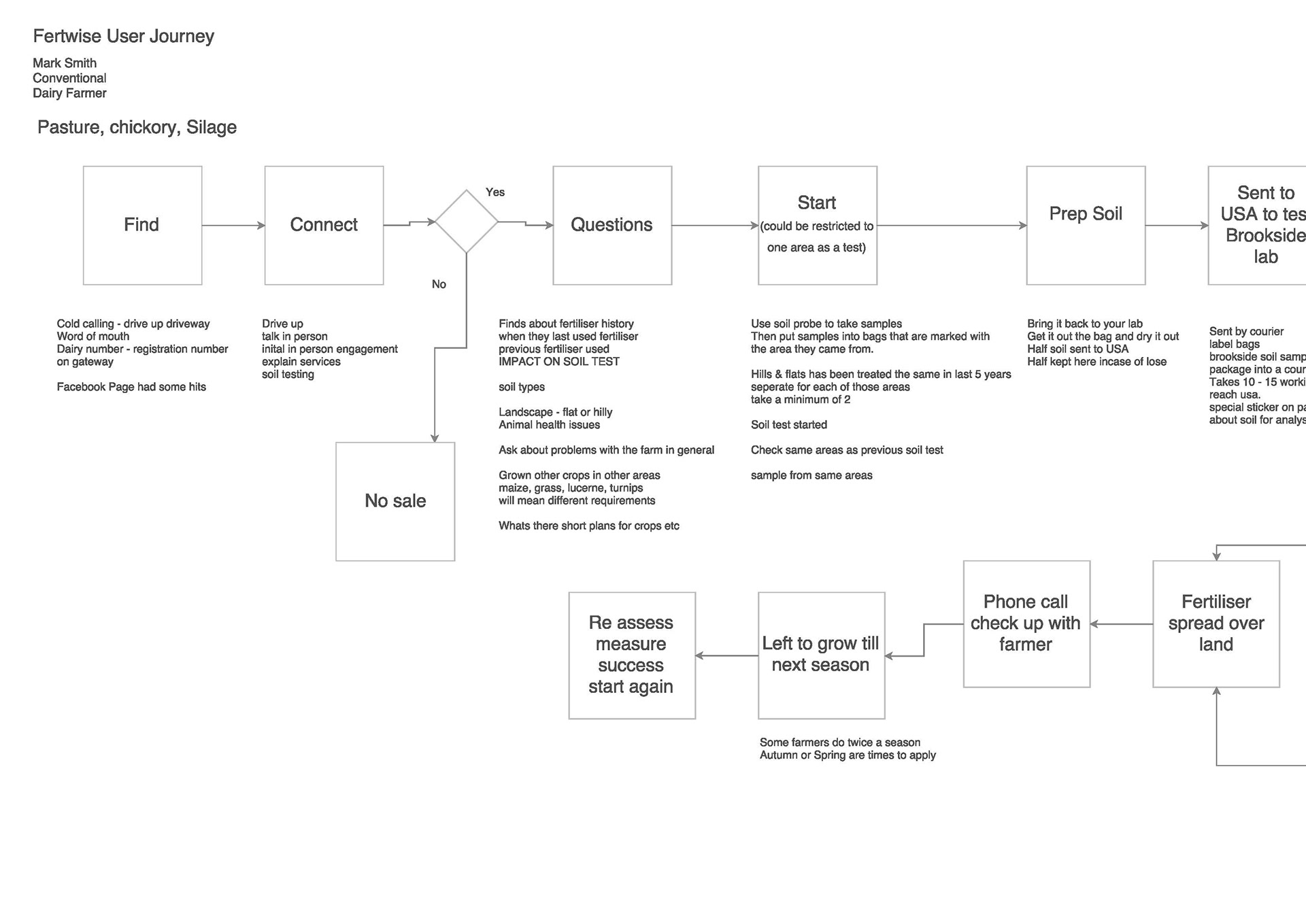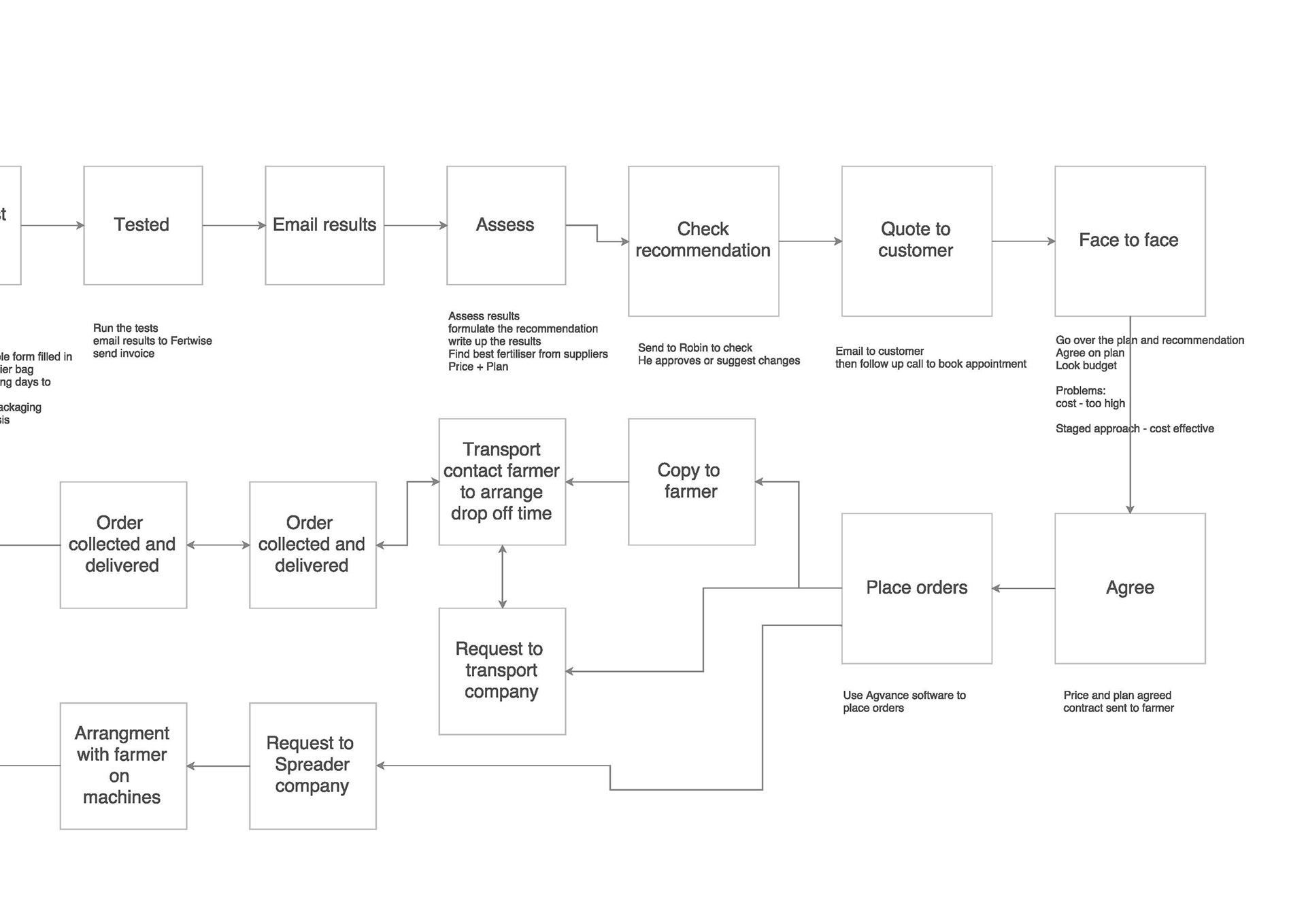 To better understand the product offering we mapped out a user journey around the current process and identified what the website and digital strategy would need to do.
We evolved the brand into 3 different areas. One focus was around animal supplements, another on liquid fertiliser and then the over arching brand on soil consulting.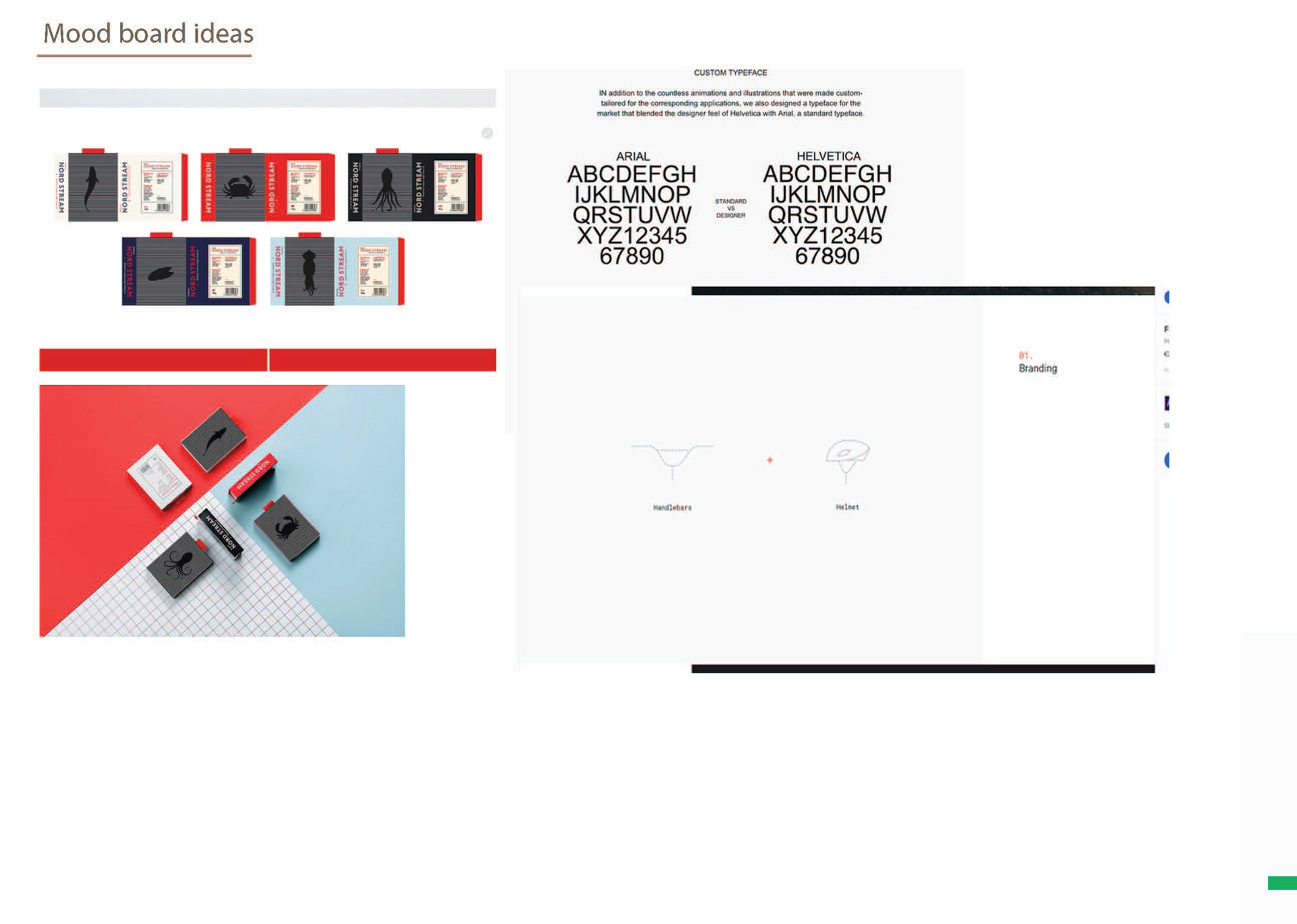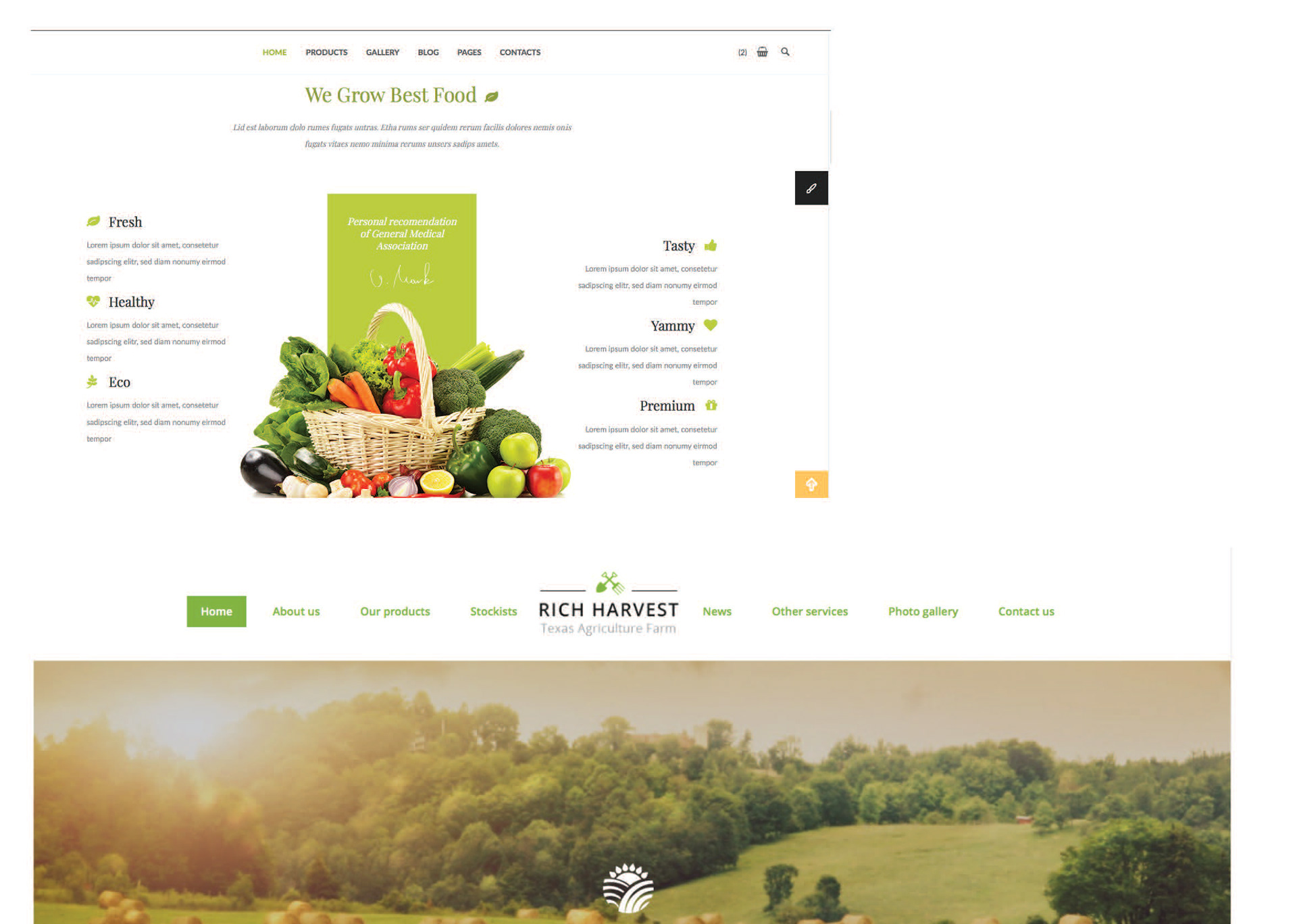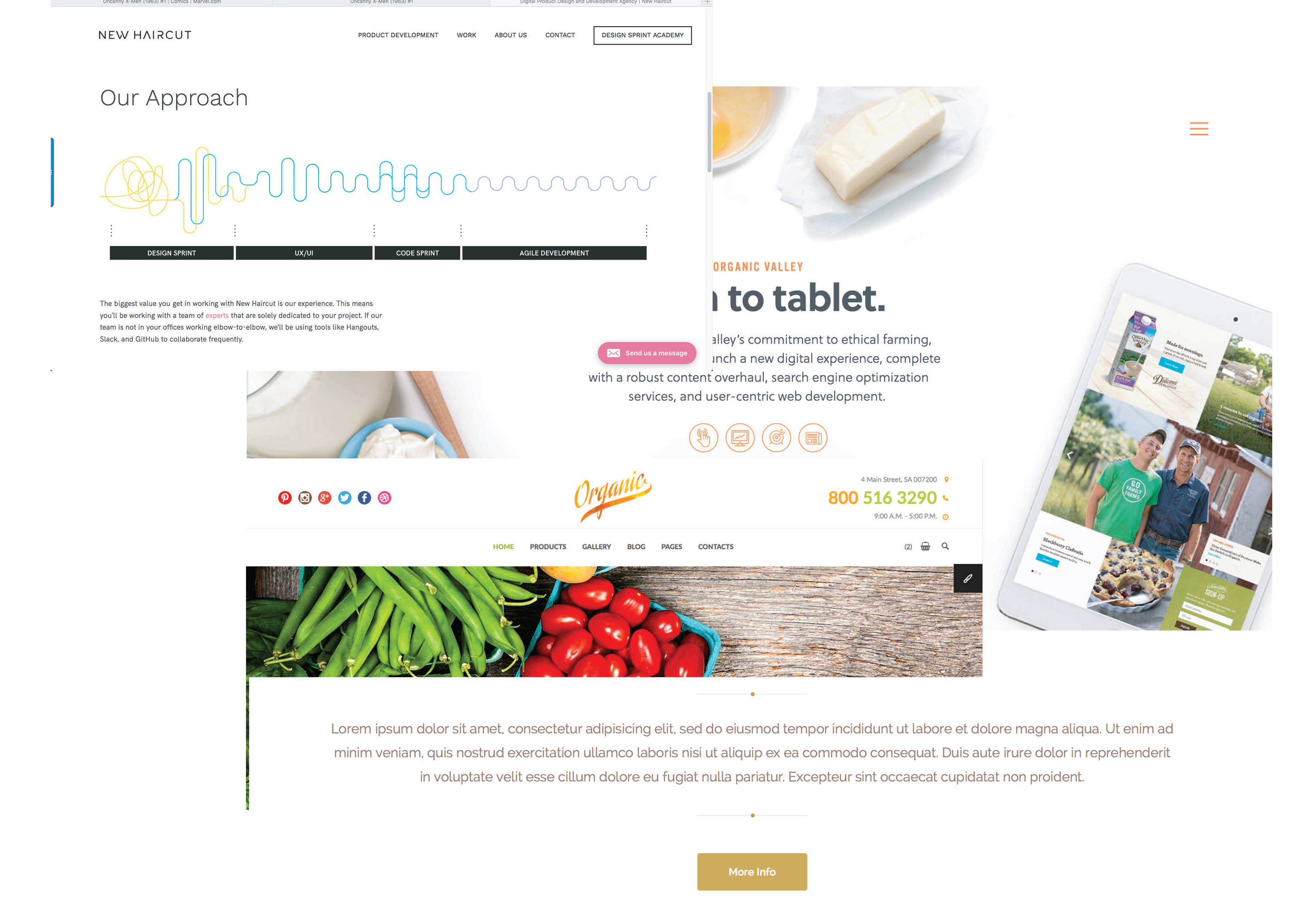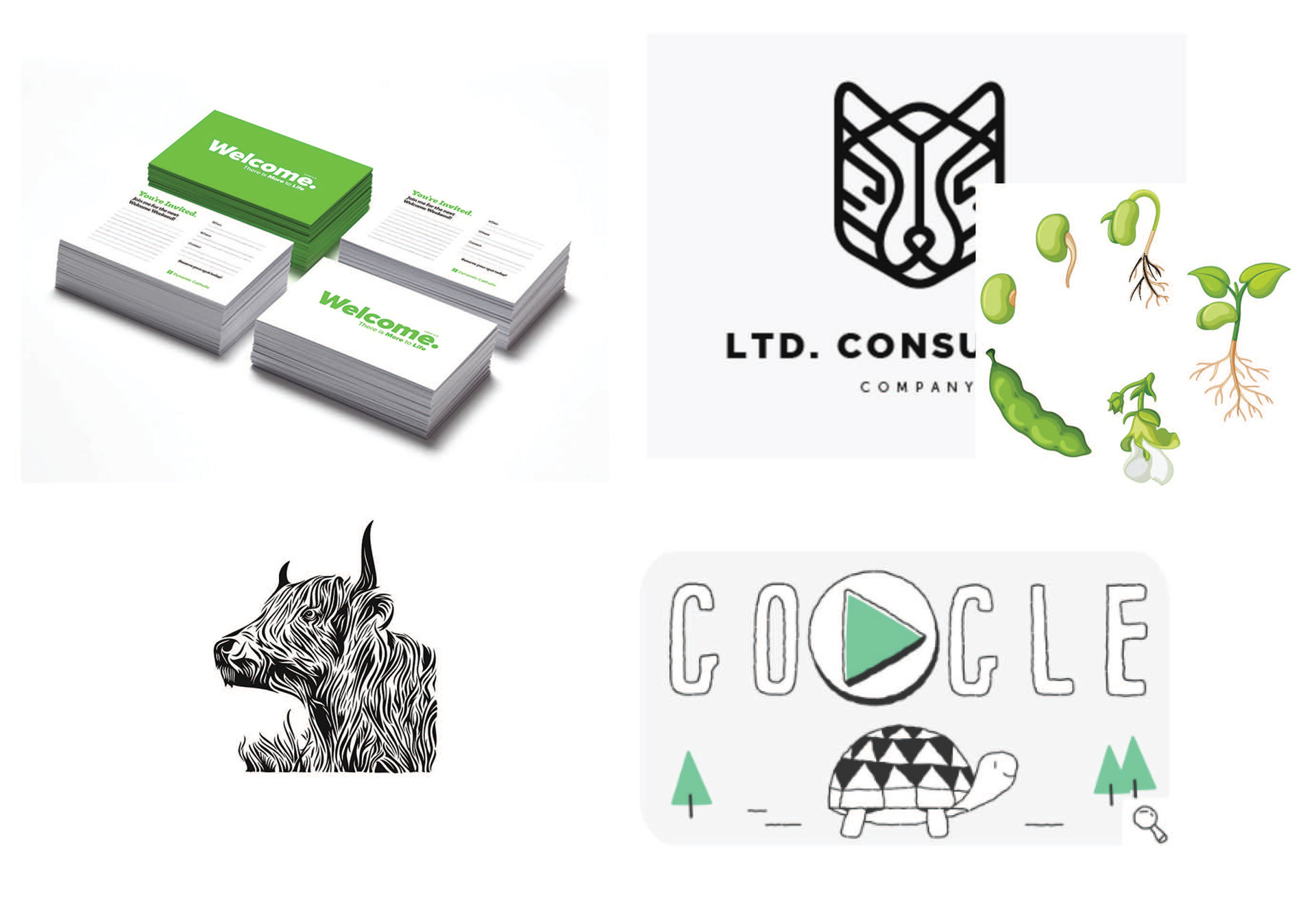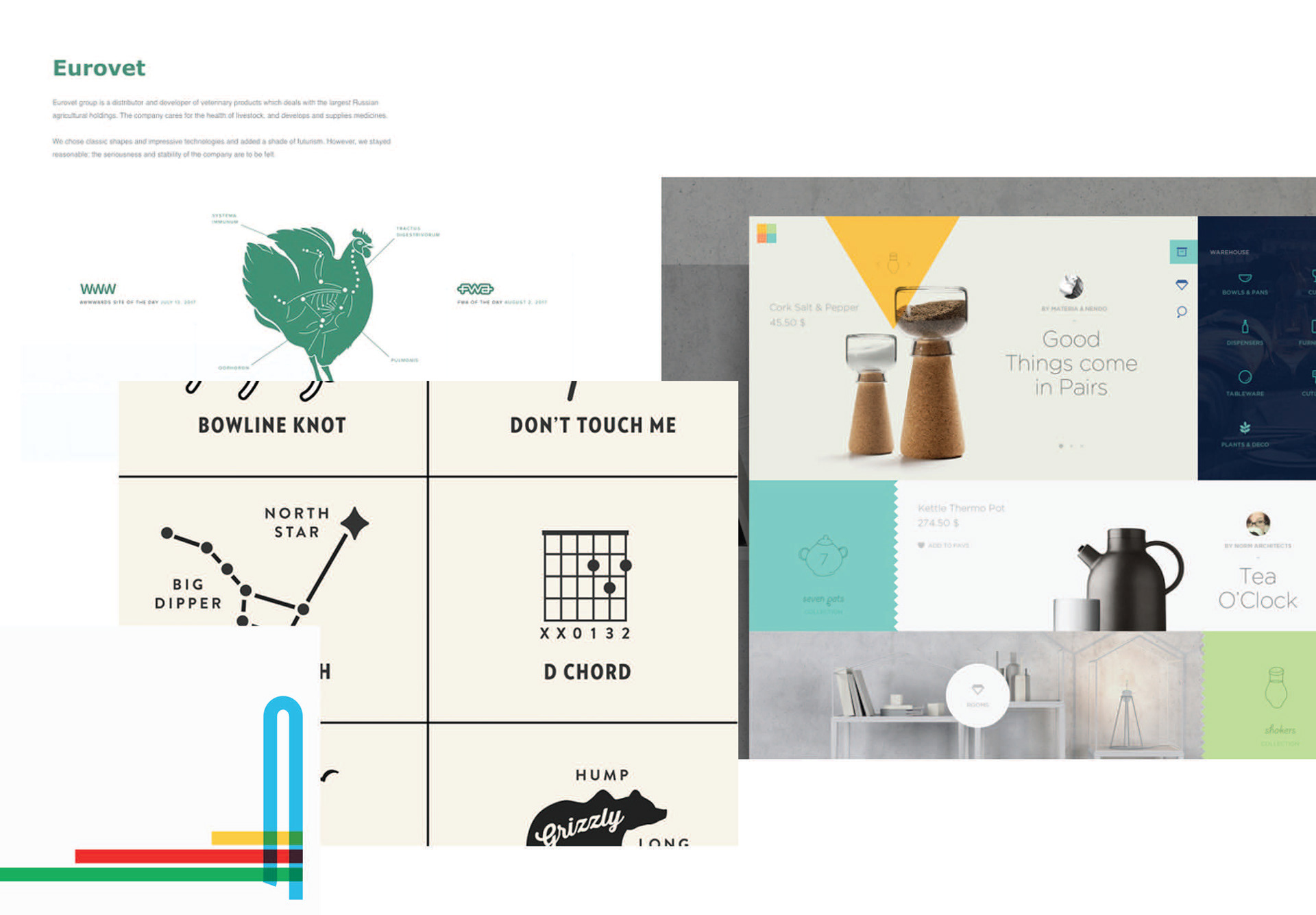 Symbol: The roots (soil) and pasture (leaf) illustrating where the absorption of nourishment occurs.
PURPOSE
Fertwise's ultimate purpose isn't to make fertiliser – It's to help farmers transition away from the reliance of traditional fertilizer application (Carpet bombing soil /pasture) and toward the embracement of sustainable crop, pasture and animal farming (Practises)
VISION:  To change the way farmer's farm, by helping build farmers understanding of how that transition to sustainable farming practises can take place. Helping farmers become more aware, of the current destructive practises in top dressing,  (crisis) the effect on their land, their soil, our waterways and the environment. Using technological innovation in soil analysis, coupled with traditional and (Natural)  alternative farming techniques Fertwise  will improve the quality of life for, the soil, the pasture, crops, the farmer industry, consumers, the environment and mankind as a whole
MISSION – To accelerate farmer's transition to sustainable farming practices by reducing their dependency on traditional chemical & synthetic fertilizers
STRATEGIC PLATFORM:  Fertwise : The fertiliser brand that creates products that nourishes the land while helping the environment.   
BRAND POSITIONING:  Fertwise is a brand committed to protecting and restoring nature's health, through ecological sustainable farming practises in Agriculture.  Through smart, technological innovation it creates, healthier soils, for more nutritious pasture and crops, providing greater productivity solutions with alternative, tailor made, sustainable fertilizer
BRAND PERSONALITY:  Approachable, Challenging, Committed, Dependable, Dedicated, Independent, Innovative, Passionate, Practical, Smart
BRAND IDENTITY.  Bold. Clean, Simple, Contemporary, Modern
BRAND POSITIONING: 
Fertwise is a brand committed to protecting and restoring nature's health, through ecological sustainable farming practises in Agriculture.  Through smart, technological innovation it creates, healthier soils, for more nutritious pasture and crops, providing greater productivity solutions with alternative, tailor made, sustainable fertilizer
Final logo and sub brands